On Thursday 18 June, 2020 Hotel Management (HM) held their first virtual event which, from all accounts, was a resounding success.
Titled 'The Recovery Starts Now', the event was hosted by HM's Editor-in-Chief and AHICE Conference Chair, James Wilkinson, and sponsored by Hostplus and Intrust Super. In a 90-minute live stream format the event saw 12 leading hoteliers from the Australasia and Asia Pacific regions along with industry associations and Tourism Australia, interviewed across a range of topics.
James conducted a 7-minute quickfire interview with each guest, providing a market snapshot on what to expect in the coming weeks and months as the recovery from COVID-19 starts for many countries in the APAC region. The audience was given a wide variety of industry insights and opinions on the recent economic downturn, redundancies, and future planning for the short and medium term in a post pandemic world.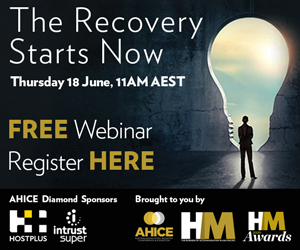 The stats say it all: 
1700 viewers, 55.92% attendance rate and an
average viewing duration 72 minutes
 Post-event reporting showed the following:
Nearly 1,700 industry viewers tuned in
A total of 963 live participants
Resulting in 55.92% attendance rate
Average viewing duration of 72 minutes
Given that the industry average for a free Virtual Event is reported to be around 30%, the results of the HM virtual event are very good.
The main challenge for The Intermedia Group Virtual Events team was to live stream the event with all 12 top-level speakers hosted remotely from various locations across the Asia Pacific region. To ensure a smooth running event, a highly advanced tech team was on board, preparing and testing all connections prior and with the ability to adjust as required during the event for a better viewing experience.
The Virtual Events Solutions opportunities are endless, from studio environment and remotely, type of event and communication, messaging, branding and content delivery… It has never been easier to expand the digital opportunities.
Have an event in mind? Reach out to us and we will get you well on your way to success without the stress.